The Go-To Planning Tool For B'nai Mitzvah Families
Budget Planner ✡ Guest List Management ✡ Celebration Details

Watch our overview video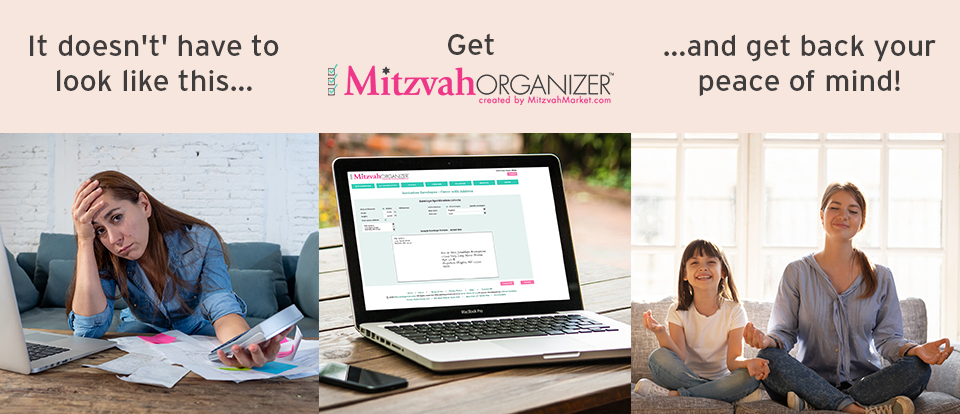 Have a look at everything you will be able to do:


Buy now and make your life easier

Effortlessly Manage:

All Events: Kiddush, Temple Service, Parties for Adults & Kids, Brunch and more

Master Guest List: Keep track of all guest information

Invitations & Inserts: Track RSVP's and more

Hotel & Bus Arrangements: Create necessary lists

Temple Honors: Keep information in one place

Party Favors: Assign sizes, other options

Party Details: seating arrangements, place cards, song list, candle lighting

Vendors: compare vendor proposals, then build a master budget to track your spending
Features:
The Easiest and Most Comprehensive Planning Tool for Your Child's Bar/Bat Mitzvah

Manage all aspects of your event using over 30 pre-designed reports that can be exported using excel or pdf. Complete financial management system to track all expenses and keep a budget.
Auto-Update

Enter info only once and the system populates all the relevant forms and tabulates expenses for you.
Access Anywhere: On your computer, tablet or phone

Update or reference information as you tour venues, visit vendors, or sit in a coffee shop.
Simplify your Simcha

SO EASY AND CONVENIENT!
It's even fun to use and share. Take it from the Mitzvah Market Moms who have worked with hundreds of families - Let's get your Bar/Bat Mitzvah Planning Started!
What Our Customers Say
I searched and couldn't find anything that compares to Mitzvah Organizer. It truly organized all my details and I'm not sure I could have planned our celebration without!
Lori C, Warren, NJ
This software is a MUST for anyone organizing a Bat/Bar Mitzvah. Just managing the mailing list and who gets invited to the different events made using this software well worth it.
Patrick I, Little Rock, AR
Mitzvah organizer was a huge help! The overall best feature is that I was able to access it from anywhere. I didn't have to carry around papers with lists. The table seating feature was awesome. It helped me to make adult tables and move people around easily. I loved that I could print out lists of adults and kids that I was able to use for so many things. It kept an easy record of responses. I was surprised at the end when I entered in the gifts that it actually totaled the money as we entered. The budget planning and expense features were also really helpful. With all the money spent planning a Bar Mitzvah, this is a definite no brainer. Everyone should be using Mitzvah Organizer!
Heather H, Jericho, NY
I've just started using the Mitzvah Organizer for my sons Bar Mitzvah in May, 2015. Let me first tell you that this is not my first time hosting a Bar Mitzvah!!
Having done the first one the traditional way (3-ring binder and spreadsheets), the Mitzvah Organizer is great!! My favorite part is the guest coordination tools. I love that I can look at who is invited to what events!! It makes it so easy!! I'm looking forward to using it to manage my invitations and rsvp's!
Lisa B, Doylestown, PA
When planning our older daughter's Bat Mitzvah, I actually posted on Facebook asking if anyone knew of a Bat Mitzvah planning website. Most people laughed. Fast forward one year and I am enjoying using your Mitzvah Organizer for our younger daughter's Bat Mitzvah. Thank you.
Dara C, Hollywood, FL
Great system to get our event running smoothly.
Andy H, Chattanooga, TN
Having never planned a Bat Mitzvah before, your software was a true life saver. It helped me stay organized, generate lists for all of my vendors as well as monitor my budget. Our Bat Mitzvah was this past Saturday and I'm now onto the last stage with organizing the gifts for the thank you cards.
Thank you, your program helped me stay sane!!!
Ellen L, Fairfield, CT